ORDER HERE

Only $49.95 + p&p

1st Edition - 2nd Printing

A Guide to Keeping


AUSTRALIAN
SCORPIONS
in Captivity with notes on
Biology and Identificationby Mark A. Newton
Dont Miss this WORLD FIRST BOOK ON AUSSIE SCORPIONS
This site was developed to give you some understanding and appreciation of the biology and taxonomy of Australian scorpions. It covers in some detail species that are readily found, although the general biology will be largley applicable to all scorpions in general. Check out the Features section for a detailed look at various aspects of scorpion biology while the Species section will give you some insight into those types readily encountered by people visiting or living in Australia. Photographs and descriptions will hopefully help you decipher which species you have found.

Thankfully in Australia we have NO medically important species, although it must be remembered that all species of scorpion carry and are capable of injecting venom.
Please don't hesitate to contact me if you feel the need to ask specific questions, you can find my email address in the LHS column. Please feel free to use the information and photographs for any school projects, but if you wish to publish any information or photographs from this site I require that you contact me first.
If you are interested in keeping scorpions in captivity feel free to email me in regards to any questions you might have. Pet shops, although they mean well, often supply incorrect information. I will have different species available for sale throughout the year, so if you are after a particuar species let me know I might have it or know someone who does. I am happy to supply the necessary keeping information for the best chances of success.
Best Regards
Mark A. Newton BSc
To Purchase the Australian Scorpion Poster - please email :
A1 Size Full Colour Professionally Printed Limited Edition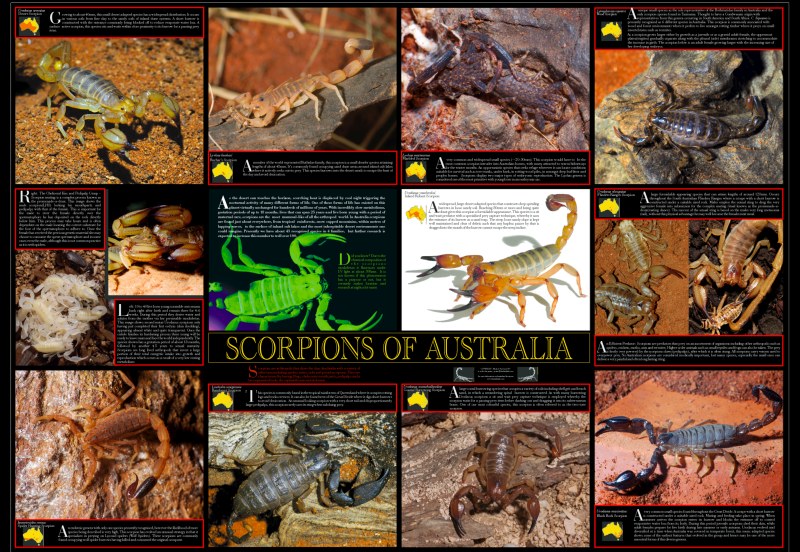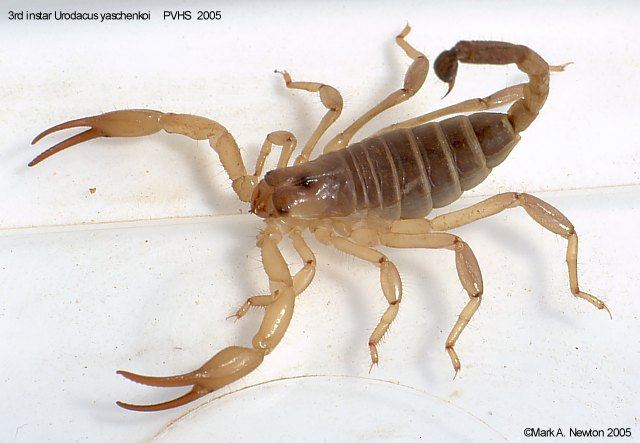 Above image shows a juvenile Urodacus yaschenkoi at 3rd instar stage. Take note of the sand combs on the first and second walking leg patella (most visible, 2nd walking leg - front). Also take note of the disparate tarsal claw lenths. Both of these characters are apomorphisms, having come about as an adaptation to a psammophile or sand-loving existence.

NEW!! - Salt Lake Scorpion

The salt lake scorpion, Australobuthus xerolimniorum is an active salt lake surface foraging scorpion, roaming out onto the dry inland salt lakes of SA to hunt down its prey, most often resting flies or small spiders that too venture in search of food.

Take a look at the NEW CareSheet for maintaining this species in captivity.

Australobuthus takes down a cricket with an injection from its venom glands.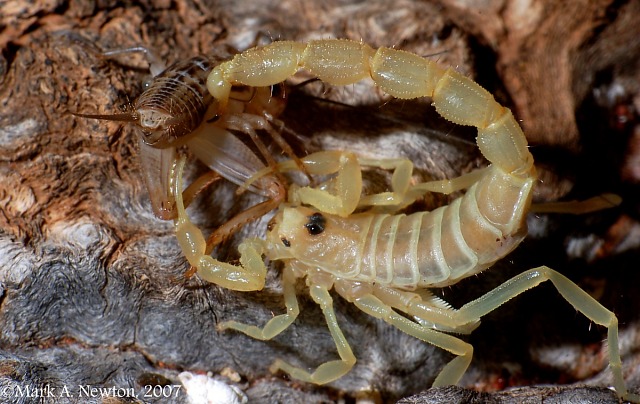 LATEST FEATURE ARTICLE
The Adaptive Morphology of Liocheles spp : Liochelidae
See the Features Section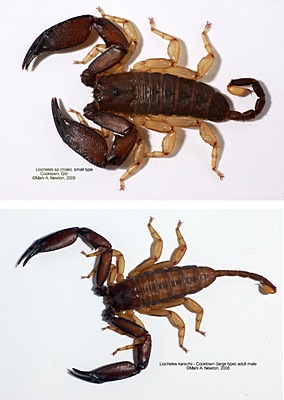 ****Introduction to Scorpions****



Scorpions have successfully inhabited this planet largely unchanged for an immense period of time. Earliest ancestors date back 450 million years and were fully or partially aquatic. At some point in time around 325-350 million years ago scorpion ancestors made the transition to land as fully terrestrial invertebrates (Farley, 1999).

The earliest common ancestor is thought to have been the Euryptids, or "water scorpions" which share features with paleozoic scorpions such as, external book gills, flaplike abdominal appendages, large multifaceted compound eyes, and similar chewing structures on the coxae of the first pair of appendages. It's accepted that the earliest scorpions were at least partially aquatic due to the external gills, presence of legs suited to a benthic existence and in some cases large size where they would have needed water to support their bodies and accomplish ecdysis. The evolution of enclosed book lungs from the prior external lungs is the most prominent transition to a land existence.

Scorpions certainly weren't the first arthropods to colonise land. Various invertebrates colonised land independently before scorpions such as the arachnids, (Acari, Amblypgyi, Trigonotarbi), the myriapods, (Chilopoda, Diplopoda), and possibly some insects in the late Silurian, early Devonian, around 380 million years ago.
There is argument as to whether scorpions are arachnids or not. Some think scorpions are the earliest form of arachnid, giving rise to the other forms. Another view is that scorpions are not arachnids, but rather modern terrestrial merostomes, with the most common relative being the horseshoe crabs, Limulus. Whichever is the case its clear scorpions represent a distinct group from other arachnids.

Modern scorpions show little difference to the primitive forms of the Paleozoic era, other than the necessary changes in locomotion and respiration. The basic body plan has remained the same, proving to be more than suitable with it's continued existence right through to present day. This is also apparent from the observation that all modern scorpions are very much the same with little variation other than subtle morphological changes to suit environment. Desert species look like rainforest or littoral species, indicating that conservation of morphology is extremely high. This is also reflected in the observation that the reproductive biology and behavior is consistent throughout the various scorpion families.

Today, scorpions are found on every major landmass except Antarctica, and were introduced into New Zealand and England by man. They occupy a vast array of habitats, including deserts, tropical rainforests, savanna, grasslands, temperate rainforests, intertidal zones and even snow covered mountains. Even though scorpions are morphologically conservative they are quite adaptable, being found in extreme and diverse conditions.

Scorpions are predacious, feeding mainly on arthropods including their own kind. They are also known to prey on reptiles, frogs and rodents. With very low metabolic rates scorpions are capable of going long periods without eating and spend much of their lives dormant within a burrow. A single meal can make up one third or more of their body weight, with little waste probably largely brought about by the process of external digestion. Prey to body mass conversion is very high in scorpions, with excreta being mostly acid with little water content. The cuticle is covered with a waxy layer to give very low water loss from the cuticle, hence scorpions show excellent water retention abilities.

Growth occurs mainly via shedding of the cuticle, producing the next instar or growth stage with each shed. Sexual maturity occurs after the final molt, with no further molting taking place. Depending on the species the number of molts to adulthood varies but is most often 5-6 times.

Young are born live, climb onto their mother's back and remain there until some time after their first moult, after which they leave to fend for themselves.

Have a browse through the Features section for a more detailed look at scorpions.


---
Burrow Cast - Urodacus yaschenkoi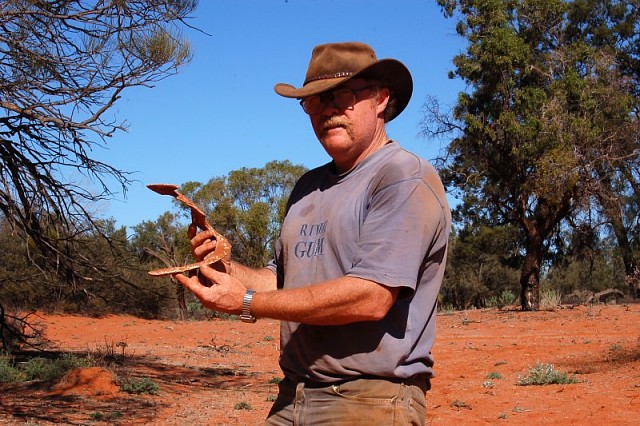 Scorpions Burrow - One of the many adaptations to surving in arid conditions is the construction of burrows in loose dune sand. Urodacus yaschenkoi is a very successful burrowing scorpion found right throughout Australia's dry interior. Burrowing enables this scorpion to escape the heat of the day and survive in a subterannean refuge that is cool, dark and humid.
**********************************************************************
The Sexual Sting
Just how does the male scorpion convince his aggressive partner he is an ideal candidate for conception? In this species she will often not be entirely forthcoming until the male delivers the sexual sting. Once the male manages to inject his potential partner before becoming her next meal he will have no problems in getting her to cooperate. Male scorpions transfer sperm to the female externally via a package called the spermatophore. It's a delicate and often time consuming process in which the male might spend quite some time locating the correct substrate on which to deposit his precious package.
Sexing Urodacus elongatus- The Flinders Ranges Scorpion
This video shows both sexes and emphasises the difference in length of the tail or metasoma,
afterwards you will have no problem sexing adults of this species.
*************************************************************************
A False Bottom Terrarium for Keeping
Rainforest ScorpionsThe following video should help give you some idea of the type of moisture gradient needed for a rainforest scorpion setup.
*************************************************************************
Many Australian scorpions are sit and wait predators. The steep slope entering the burrow acts as a sand trap. Small arthropods have difficulty climbing the loose incline which makes prey capture so much easier for this clever nocturnal predator.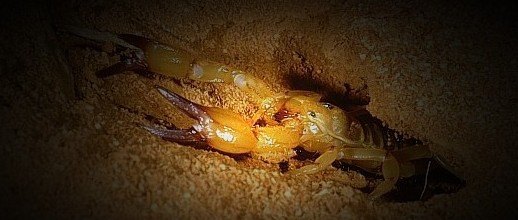 ********* SOME HOT LINKS!!!! *********


For a wide range of Scorpions for Sale and accessories, visit the Green Scorpion

<!- - Advertising and Ring - ->Use the Scorpion Ring to locate other interesting Scorpion sites...
The Scorpion SiteRing

Founded by:
Chad Lee
!
<! ;/TR>
SiteRing by Bravenet.com
This site is İMark A. Newton
The use of any images or factual content is prohibited unless permission is given, thankyou.